Whether it's TWISTS...
Or NIBS...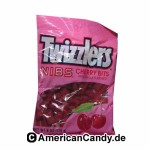 I don't really care! I have some sort of addiction to these things. Every couple of months I have a junk food binge and Twizzlers normally fall right in the middle of it. Most times the impetus for this binge comes from my co-workers who will bring a 5 pound tub of Twizzlers in to the office and sit them in our "food cube" for anyone who wants them. Typically 5 pounds turns into zero pounds in two days or less. So yesterday a new tub of Twizzlers was placed in the food cube and my binge began. Since yesterday morning I'm sure I've ate at least 30 artifically strawberry flavored licorice twists. YUM!
My affinity for this stuff goes way back to childhood and I am sure the friends I grew up with will gladly vouch for my penchant. Especially considering I would never want to share with anyone. A while back I realized what
my favorite candy of all time
was. But I must say that I eat Twizzlers more often. Thank God for the Hershey Company.