I just read a short article on the
"revamping" of CD packaging by Universal Music Group
.
To summarize, Universal is going to repackage CDS into three separate types of packaging. You'll have the deluxe CD packaging with a stronger case (I suspect) and some other "deluxe" features. A normal case that's probably going to be alot like what we have now. And then the lowball package that'll most likely be sleeves like you'd get at a promo concert of something.
The purpose of all this is to boost CD sales. Due to competition from online album sales through services like ITunes, CD sales will probably decline even more in the years to come as well all start to migrate (like I am attempting to do now) to devices like iPods and cellphones that we can download albums directly onto. My personal mission that I would like to accomplish by the years end is to combine my palm pilot, cellphone, and music player into one device that is small enough to tote around on my hip.
I am hoping and praying that the Motorola Q can do this for me
in an effective manner.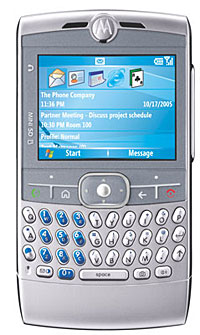 Anyway, after reading the article, I thought about how one day I know for a fact that I will no longer buy my CDs at the store or online (for shipping to my home). I am 100% sure that pretty soon (if not already) we'll be able to download an entire album of music directly to our mobile phone or iPod and then print out the CD cover and liner notes if we wish, by simply syncing our hand-held device with out computer. As I type this I realize that if I'm thinking of this right now, then some company MUST already be doing it. So I can see the day where I don't buy CDs anymore, just download them and keep it moving. It'll be quicker than going to the store and I can even preview snippets of the songs I want to download before I pay for them. God I love technology! Thank you for giving it to us!
Cellphone, PDA, Jukebox! Man! If you can't embrace and enjoy technology, LET ME HELP YOU!
"Ooh I think she like me, she got me on her ringtone!"