Yesterday I was at my grandmother's house waiting on my mother, stepfather, and two of my brothers (Marcus & Manny) to come by so we could head to Six Flags America. While there, I watched the end of the British Open Championship with my grandparents.
As you would expect, Tiger Woods was kicking a$$! He was 18 shots under par going into the 17th hole and the guy in second place (Chris Dimarcos I believe) was like 14 under par. This is a 4 stroke lead with two holes to play and anyone who knows a slight bit about golf or has listened to Sportscenter enough knows that Tiger doesn't lose under these circumstances. Him losing would be like saying last year's Colts team has a 44-20 lead with five minutes to play and all the starters still in on offense. They're most likely gonna win the game. And yes, I know a little about golf. Not much. But Sportcenter can be VERY educational.
Anyway, Tiger goes on to win the championship and gets his 11th "major championship". In golf, a "major" victory is pretty much the measuring stick of how good you are as a player. Unlike other sports where there's a single championship every year, in golf they have "majors" and all of them are like the superbowl of golf. Well, except the Masters I guess. The British Open Championship was Tiger's 11th major and his second win in a row at this major championship event. The boy's BAD, but of course, you already know this.
Now what I liked most about watching this was that after the last hole, Tiger broke down and got real emotional because his father recently passed. And if you know anything about Tiger, you know he and his dad were best friends. So this victory was Tiger's first since his dad passed (I believe) and he got real emotional. But after the emotions came out and he went up to make his speech and receive his trophy, Tiger was articulate, classy, and held his emotions intact. I was impressed!
Admitedly, up until yesterday, I considered this guy a total cornball! I mean the coblonasian thing and he always seemed too preppy...I thought this guy was pretty d@mn corny. But I have a newfound respect for Tiger Woods and I think he's really just a normal, genuine, and sincere guy. He just seems like a good person. I like that, so I'm adding him to my newly developed (as in right now) list of role models.
I guess I've always had role models, but I've never actually sat down and thought about exactly who the people were. It was just a subconsious thing you never really mouthed or wrote down. You're influenced by lots of people in your lifetime and you're impacted by lots of people. But only a few do you call your actual role models. Here are mine. I'm sure this list will expand the more I give this thought.

My Role Models:
- My grandfather. He WAS MY DAD for the first few years of my life.
- My stepfather. A man's man. Disciplinarian. Spiritual. Hold's down his family.
-
Will Smith
- Tiger Woods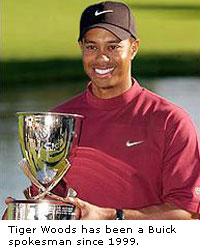 Now I know some of you are gonna e-Hate on Will and Tiger since I didn't give any thorough explanation of why they're on the list. But it's all good. Go find your own role models!